As part of the Evaluating Interactive Systems module of the Masters programme, I conducted a Usability Evaluation of the tfl.gov.uk website, addressing (hypothetical) goals and concerns of the 'client'. I conducted real user testing on real users and presented the findings to the relevant 'stakeholders'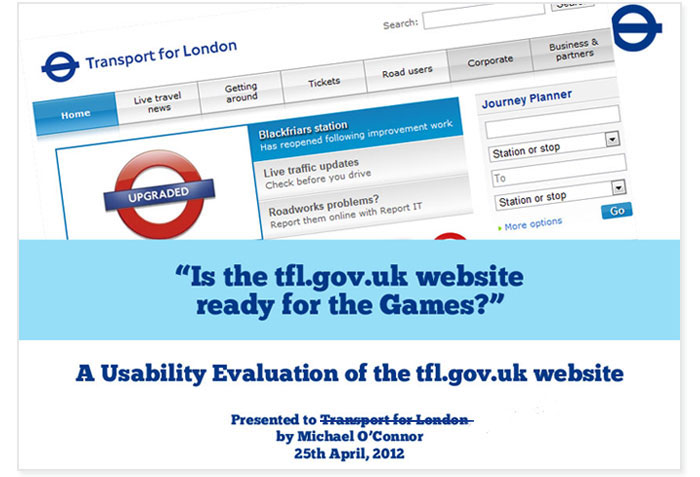 The usability study of the Transport for London's website at www.tfl.gov.uk was conducted to address the goals and concerns of TfL in the run up to the Olympic Games in the summer. The goal was to identify any issues which would impede users from completing onsite tasks efficiently and effectively and also to suggest improvements and put forward design recommendations that would enhance the overall user experience of the website.
The usability study involved 5 representative users, each performing 5 tasks on the site which reflected core features of use. The usability evaluations were carried out in lab conditions using Morae Recorder and Manager software and the data was then coded and analysed, categorised, ranked and presented with design recommendations (both as a formal document and by way of a presentation). 
Strict guidelines were adhered to in regards to both ethical responsibilities and academic and commercial user testing frameworks.